Basic principles of comprehensive cleaning
How can you tell if your home is really comfortable? Very simple – you want to go back there. And if you want your home to be cozy, clean, and loved, you have to keep it clean all the time. It is not as easy as it seems at first glance.
We are used to that it is necessary to clean the house every day, and sometimes do the general cleaning. Yes, without a general cleaning in the house can not do – it should be done at least once a season, especially in the fall and spring, when you need to remove the seasonal items for storage. But is it possible to somehow reduce the number of tedious daily cleanings? Yes – if you do a comprehensive cleaning on time!
We tell you in this article what is a comprehensive room cleaning, how it differs from the usual and general cleaning, as well as how to properly conduct it without labor and with a good mood.
What is comprehensive cleaning and how it differs from maintenance cleaning
Supportive cleaning is the daily activities that we do around the house so that it is not only clean and comfortable, but also comfortable to use all the household items. Supportive cleaning includes items such as:
dishwashing;
daily cleaning of the floor (sweeping and vacuuming);
cleaning work surfaces – kitchen countertops, desk, dining table;
daily garbage removal;
cleaning dirty outdoor shoes;
keeping shelves in order among daily use items (putting away books, remotes, chargers in their places);
wiping down appliances that have been in use (combines, coffee machines, blenders, mixers).
As we can see, there are no items like washing windows, wet mopping the floor, cleaning the bathroom, etc. But these things cannot be done once a season in a general cleaning – otherwise the house will be a mess and constantly accumulating dirt. This is where comprehensive cleaning comes to the rescue.
Complex cleaning – this cleaning of all rooms in the apartment according to a step by step plan of action. As a result of such cleaning your apartment will shine with purity, but spend less time and effort for such cleaning than for the general cleaning. This type of cleaning is offered by some cleaning companies, but it can also be done by yourself. All you need to do is to follow a clear plan of action.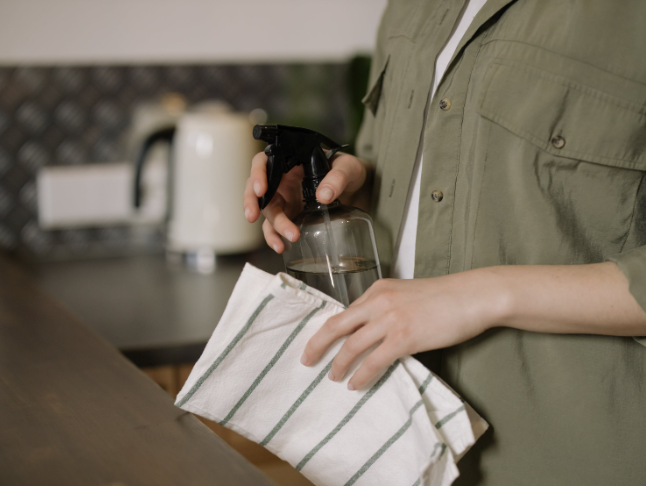 What is included in a comprehensive cleaning
Comprehensive house cleaning includes cleaning each room. That is, you can immediately estimate how much time it will take you to clean the whole house using this method. All of the following steps are carried out one by one in each room, and in order not to get tired, between rooms you can take small breaks to rest.
Floor cleaning
The time for this stage strongly depends on your flooring – carpeting, laminate, linoleum, parquet or tile. What needs to be done: dry cleaning – sweeping or vacuuming – and then wet cleaning, which means washing the floor and baseboards. If you have carpeting, you simply vacuum the floor and then wet clean the baseboards around the perimeter of the room.
Average time: 20 minutes per room, depending on the size of the room and the flooring in it.
Furniture Cleaning
This requires a damp wipe, light cleaning, and sometimes stain removal. If all the furniture in the room is wooden or plastic, you just use a damp cloth, preferably with an antistatic effect. If the room has upholstered furniture, then use a special vacuum cleaner attachment or a damp cloth for furniture. If you know that there is serious dirt on the sofa, spray the stain in advance – before you start cleaning – so that the product starts its action immediately. At this stage, pay special attention to the legs of chairs, armchairs sofas – there is often accumulation of dirt and dust, which then spreads across the floor.
Average time: 20 minutes per room, depending on the type of furniture in it.
Dusting walls and surfaces
Use a sponge mop with a telescopic handle to quickly dust walls and cabinets. Pay particular attention to cabinet doors and furniture fittings. For glass doors, use window cleaning spray and a rag.
Average time: 15 minutes per room.
Cleaning the decor – pictures, vases, photo frames, souvenirs
At this stage, you need to wipe everything on the shelves and hanging on the walls – clocks, vases, caskets, picture frames, figurines. You can use a brush with a very soft nap, or you can use a barely damp cloth (or a dry antistatic microfiber cloth so as not to leave stains on glass and ceramic objects).
Average time: 10 minutes per room.
Wet cleaning of window sills, cabinet furniture, window frames, ventilation grills, batteries
For this you'd better take a larger rag so that you can use it to dust large areas – an empty window sill, a radiator, etc. – as quickly as possible. Do not use a soapy solution so as not to leave a foam and odor of detergent, it is better to use a regular wet rag. Note that this step does not include window cleaning, which requires a lot of time and special household products.
Average time: 10 minutes per room.
Household Appliance Cleaning
At this stage, you need to remove dust from the computer, TV, kitchen appliances, outlets and switches. This also includes dusting chandeliers, sconces, light fixtures, and floor lamps. Remember, you are not required to perfectly dedust, you should not even remove the plafonds (this is done in the general cleaning). At this stage, you remove the external dust. If you do a comprehensive cleaning once a week, chandeliers, switches and appliances just don't have time to get so dusty that a detailed cleaning is needed.
Average time: 20 minutes.
Polishing Mirrors.
Use window or mirror cleaner and a rag, and at the end, take paper towels or regular crumpled toilet paper and wipe the mirror dry to avoid leaving streaks.
Average time: 5-10 minutes.
Caring for bathroom and kitchen fixtures
These steps are performed after you have cleaned the bedroom, children's room, study, living room, hallway. In the kitchen, special attention requires removing plaque on the plumbing, removing grease on the kitchen apron (tiles or panels), the kitchen stove. In the bathroom, in addition to cleaning shelves, cabinets, sinks, showers or bathtubs, you need to disinfect the toilet bowl.
Average time: 15-20 minutes.
Average time: 10 minutes per room.
Eliminate unpleasant odors, take out the trash
All of the garbage that you will collect in each room should be taken immediately into the corridor, to the front door of the apartment (you can put a bucket or a thick garbage bag for this purpose there at once). To leave a feeling of freshness after taking out the trash, put an oil fragrance, a sachet or special incense in the rooms after you take out the trash. You can choose a scent separately for the bathroom, separately for the living room.
Average time: 15 minutes.
Let's calculate how much a comprehensive cleaning of a one-room apartment takes: about 2 hours and 15 minutes. If you have several rooms, then add + 1.5 hours for each of them. If the rooms are small, with very little furniture and decorations, cleaning one room can take only 40-50 minutes.
The benefits of comprehensive cleaning
Comprehensive cleaning has many advantages over conventional cleaning, although it does not take as much time as it seems. Let's list its advantages:
when there is a lot of dirt, it is easier than a general cleaning;
it does not require special preparations and purchases – everything you need is always at hand (rags, vacuum cleaner, etc.);
helps to make an apartment and any room (office, country house) more attractive;
it is done quickly – it is convenient to do it before the arrival of guests;
it can be done at any time without distracting the home team from their work (also it can be done in the office during the working day without disturbing the work processes);
does not require rearranging furniture;
can be both a full-fledged and express option – the main thing is to pay attention to each step.